How to help your child utilize coping skills when he/she feels sad emotionally in order to learn how to problem-solve and regulate themselves on their own.
SYMPTOM REDUCTION: Feeling sad, depressed, or hopeless.
SYMPTOM INCREASE: Self-awareness, self-esteem, self-regulation, and self-reliance.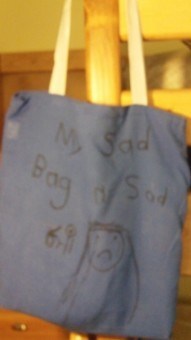 Jeanette will demonstrate how to make a Sad Bag DIY and present 8 items that are placed in a bag designed to provide coping skills for children, in order to externalize their feelings of sadness and support children in their grief and mourning.
MATERIALS:
1 Bag, Color Blue, with Handles
Tear Pillow
Magical Wish Journal
Paper to draw with crayons/markers
Small Photo Album
1 pack of Guatemalan Worry Dolls or Popsicle Sticks & Yarn
Bubbles
8 Index Cards for Sad Busters
She will introduce the task by explaining the meaning and purpose of the Sad Bag filled with coping skills to help children manage their "sad" feelings with the use of a special bag they will explore and create together. Continue to explain that within the bag there will be special skills for him/her to do when they have these feelings and don't know how to express them. The order is not important.
At the end-all of the items are placed back in the bag and the child or parent/therapist/social worker writes on the outside of the bag "Things to do when I feel sad to make my broken heart feel glad!" The child keeps the bag within reach hanging on a door knob or hooks in his/her room.